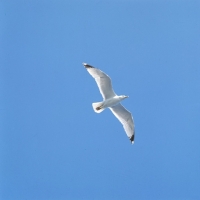 A couple from Eastern Canada, who must have been fighting on the plane trip into Campbell River, because when I picked them up a the airport they were not talking to each other or me!
I made arrangement to take them fishing later that day.
While in the boat, there was very little conversation, and I could feel the tension. The wife spent most of her time looking out the opposite side of the boat from him. The fishing this particular afternoon was slow– just what I needed! Finally, "Fish On!" it was a scrappy 12-14 lb Chinook on his rod.
Just when I thought things were looking up the hooks pulled out right at the net. Now they looked really down. As I was rigging up a new bait, I was thinking to myself, how am I going to break the ice with these people and get them talking to each other and enjoying a good time. After he had lost his fish, he threw his hat to the bottom of the boat exposing an almost bald head.
Circling over head, interested in the bait I was rigging, was a seagull. This seagull decided to relieve himself and it landed directly in the center of my guest's bald head!!!
The wife lost all control, she was laughing so hard she had tears in her eyes and was rolling around in the boat.
We went on to have three more days of good salmon fishing, good conversation, and plenty of laughs. I now look at seagulls through a different light!
https://talltale.bc.ca/wp-content/uploads/2021/08/seagull.jpg
200
200
Tall Tales Staff
https://talltale.bc.ca/wp-content/uploads/2021/08/tall-tale-charters-1.jpg
Tall Tales Staff
2021-08-12 10:38:08
2021-08-23 11:45:24
Looking Up?