Join Steve year round for world-class salmon fishing from our comfortable 24' Boats.
Book your Charter Early
Best to contact us as soon as you can to confirm your date(s).
Unique Salmon Fishing Tours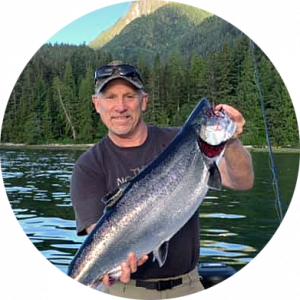 Your host, Steve Babcock, has more than 30 years experience. Year round Salmon fishing from our comfortable 24' Boats. Calm protected waters of Campbell river area. Experienced courteous guides. Insured and Transport Canada approved. Quality fishing tackle. Fish care.
We employ only experienced professional guides knowledgeable with the local waters. Campbell River is renowned for its consistent, world-class salmon fishing! We provide cruiser suits and/or foul weather gear, fish care, all bait and tackle, snacks, and soft drinks. Dress comfortably in layers (jeans, sweatshirts, etc). And don't forget your camera!
We work with several Hotels, Motels and lodges depending on your group size and needs. Call us and we will be happy to design a custom package for you!!
Cost
Per Boat $170/hr (4 guests max)
July 15 – September 15 (8 hour min)
September 16 – July 14 (5 hr min)
All charters are private/exclusive to your group